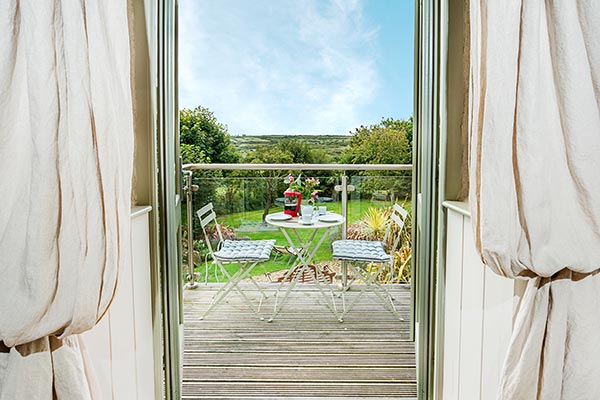 – reviewed by on the luce
Rather than jetting off somewhere exotic post-wedding, we decided a week of rest and recovery nearer to home would be a good plan (plus I'm still struggling with the big honeymoon question). Somewhere peaceful where we could laze around among beautiful countryside would be perfect – like Cornwall. During my research I came across the website for self-catering holiday company Unique Home Stays, and ended up wasting a good few hours fantasy holiday planning (check out this beauty, sadly a bit out of our price range!). In the end we plumped for Old Pear Tree Barn, a converted barn and piggery in the Cornish countryside, surrounded by green fields, sand dunes and the old pear tree that gives it its name.
The Location
Old Pear Tree Barn is just outside the tiny village of Cubert, about five miles from Newquay on the north Cornwall coast. It's at the end of a private road out in the middle of nowhere, so is incredibly peaceful. You're not right on the beach but can walk across the fields from there to Holywell Bay – the information sheet said it's a 20-minute walk but we're either very unfit or got lost as it took us more like 30–40 minutes each way! Holywell Bay is a backed by huge dunes with wild seas in a stormy September – though we couldn't get too close to the waves as a future blockbuster was being filmed on the beach. This part of the coast is great for surfing or bodyboarding and you can take lessons in Holywell or nearby Perranporth Bay. You're also close to Newquay, Truro and within day-trip distance of the Eden Project and Padstow.