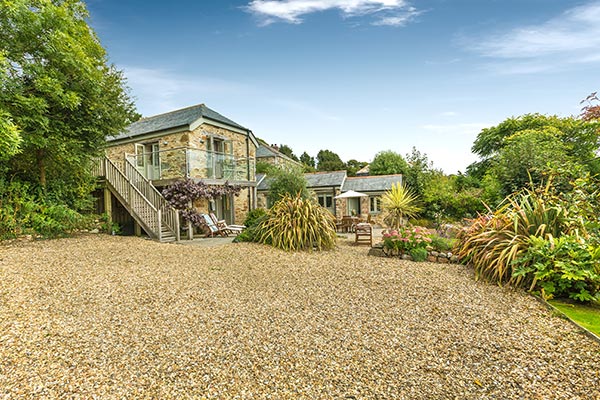 No…that is not one of our latest reviews! We wanted to give you a little bit of an insight regarding the history of the building and the huge renovation and restoration process that took place to achieve it's present form.
Just a few years ago Old Pear Tree Barn was a derelict barn and piggery, but, now it has been imaginatively and careful restored into a charming, comfortable and luxury, eco-self-catering home. Great care has been taken to retain the unique, original, rustic charm and character, whilst harnessing modern state-of-the-art, eco systems to provide high levels of comfort for a relaxing stay.
For most of its life, the barn was an integral part of a working farm, complete with a kitchen-garden growing fruit and vegetables to supply the family and their workers, who carefully tended the surrounding fields and their cattle, sheep and pigs. With the sound of chickens fussing and scratching about the yard and laying their eggs, the old place was entirely self sufficient, complete with an old generator and its own water well. In fact, mains water and electricity, only became available in the early seventies!!
When the barn first appeared on the market, we weren't seriously interested – just a bit nosey – but as soon as we saw it, we fell under it's spell and were completely enchanted. We adored the location, the rural views and the tranquillity and so we decided that this was where we wanted to settle.
The barn was actually in a very poor state of repair. The roof was falling in. The timbers were rotten. It was really only four stone walls and a tumble down old piggery. There was so much to do! The gardens were completely overgrown, more akin to a jungle!! Had we bitten off more than we could chew? It did seem pretty daunting at the time. Nevertheless, we had learnt that the barn already had planning permission to convert into a two bedroom dwelling and so we started to make it safe and dry and then after a little hiccup when the recession first started to bite, we eventually managed to complete our labour of love and Old Pear Tree Barn is now our pride and joy.
One of our major challenges was how to retain its character and its original features whilst using modern technology to create an environmentally friendly, liveable home. Fortunately, with the benefit of abundant outdoor space, we were able to install a ground store heat pump, which heats the house and provides hot water by harnessing the heat in the ground and some smart technology too!! We installed under floor heating throughout and masses of insulation and so we managed to transform a damp, cold and derelict barn into a warm and comfortable, character home, fit for the twenty-first century.
Our old neighbour, long since passed, told us that he was born in our house and that when he was a little boy, many, many years ago, long before any of us were born,  his mother had planted a pear tree in the orchard in front of the barn, we decided that we wanted to remember this small piece of local history and include the pear tree in the barn's name.  A brand new era had now unfolded for this unique and very special place and so Old Pear Tree Barn was born, or should we say "re-born".
The derelict piggery
Renovation and restoration work begins
New roof going on
Plastering and internal work
Under floor heating installation
Almost time for the scaffolding to come down!
Nearly complete!
Getting ready to welcome guests!